About Us
The company name, Plūs Ultré, is extracted from the Latin phrase "ne plus ultra" (nee-plus-UL-truh), meaning the "highest point, as of excellence or achievement; the acme; the pinnacle; the ultimate or the most profound degree of a quality or condition."
The Pillars of Hercules, for example, were literally the nec plus ultra of the ancient Mediterranean world. Charles V's heraldic emblem reversed this idea, using a depiction of this phrase inscribed on the Pillars— as "plus ultra", without the negation. This represented Spain's expansion into the New World.
The phrase can be found in Hall of Mexuar at La Alhambra in Granada, Spain, signifying the ultimate point during the Moorish reign in Spain. Plūs Ultré represents our thinking and our way of doing business: we are constantly moving towards the ultimate achievement.
We aim to promote the best interests of our clients by providing hands-on service and customized solutions.
Founder & Principal Lee Nunery
Dr. Leroy David Nunery, II, is Principal/Founder of Plūs Ultré, a management consulting company started in 2007 that specializes in enhancing the strategic, managerial and operational capacities of entities in the K-18 educational spectrum. Prior to forming Plūs Ultré, he was President of School Management for Edison Schools, Inc., the leading for-profit provider of education management services for public charter schools. He was one of 3 finalists for the CEO of the School District of Philadelphia in 2008.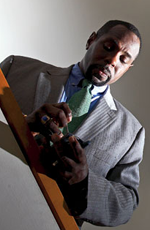 From March 1999 to June 2005, Dr. Nunery II was Vice President, Business Services for the University of Pennsylvania, responsible for oversight of the institution's major auxiliary enterprises with revenues of $160 million and over 800 employees. He was heavily engaged in the strategic planning and implementation of Penn's renowned West Philadelphia Initiatives, particularly the inclusion of local minority-and women-owned businesses; a robust employee assisted housing program; retail development; arts and culture programs; and workforce development.
His professional experience includes 16 years in various roles in corporate banking and the capital markets and 4 years with the National Basketball Association as Vice President, Human Resources and Vice President, Business Development. His foundational business experience came from Leroy Nunery & Sons, Inc. (now LSP Electrical Contractors), an electrical contracting firm started in 1969.
Dr. Nunery has extensive experience on non-profit (e.g., Lafayette College, the Plan Performance and Financial Standards Committee of the Blue Cross and Blue Shield Association) and for-profit boards (e.g., Pitney Bowes, Inc.), and has been quoted and profiled in numerous leading publications and media for his work in business education and diversity. He has been a frequent public speaker and advisor on the issues of education, economic development, leadership development and strategic planning.
Dr. Nunery recently joined the cadre of leadership coaches of Leaders-By-Design/Leader's Edge as a Senior Consultant. He is also a Council Member of the Gerson Lehrman Group. As a GLG Council Member, Dr. Nunery has enabled decision-makers at numerous corporations and non-profit organizations to better understand the products, services, companies, issues, and industries on which they focus.
Dr. Nunery is a graduate of Lafayette College (B.A., 1977), Washington University (M.B.A., 1979), and the University of Pennsylvania (Ed. D., 2003). He is a Wharton Fellow (2001) and participated in the Aspen Institute's 2007 Executive Seminar.
What We Do
Generate
new ideas that produce sustainable revenues.
Think
about your success!
Plan
strategically and operationally with your mission in mind.
Develop
analyze and model financial statements and budgets.
Coach
train, and mentor your organization's talent.
Provide
invaluable insight to your leadership.
Facilitate
and form strong boards that govern with efficiency and effectiveness.
Troubleshoot
and solve problems that prevent your organization from reaching its goals.